Welcome to It's Tops!
Welcome to the It's Tops promotional item catalog. Wondering what promotional items are out there that can help your organization stand above the rest? This is the perfect place to start. Browse the catalog to begin the brainstorming process. With over 20 different categories to explore, you're sure to generate some ideas on new and innovative ways to continue branding and build greater exposure for your business. Once you have some ideas, contact It's Tops to speak to a branding solutions consultant.
Featured Item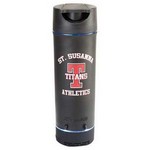 Zoom® Audio Flask
The Zoom Audio Flask rocks out with an 18 oz. capacity to keep you hydrated. It boasts a removable, light-up, Bluetooth speaker that blasts your favorite soundtrack to keep you motivated and supports ...